Postoperative Rehabilitation in Leeds
Recovering from surgery can be a stressful and traumatic time. There is probably nothing more frustrating than not being able to function in the way you know you can. For those who find themselves in this position, our skilled physiotherapists offer postoperative rehabilitation in Leeds and the West Yorkshire area.
The stress one encounters during the rehabilitation stages following surgery can be greatly minimised with the help of physiotherapy.
Patients who have been discharged from hospital following orthopaedic surgery (knee replacement, hip replacement, shoulder surgery, back surgery) can benefit from Physiotherapy treatment or advice provided by Physio Leeds.
Physio Leeds can ease the discomfort and rehabilitate the following:
Hip Replacements

Kneww Replacement / Knee Surgery

ACL Reconstruction

Decompression & Reconstruction of Joints

Lower Back / Spinal / Intervertebral Disc Treatment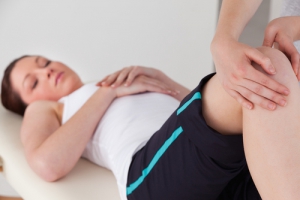 These are just a selection of the surgical procedures in which Physio Leeds can effectively rehabilitate.
Get back to peak physical condition with postoperative rehabilitation in Leeds.
PhysioLeeds Fit4Work, Bankside, 71 Breary Lane East, Bramhope, Leeds, LS16 9EU
PhysioLeeds Fit4Work, Trinity Fitness, Brownberrie Lane, Horsforth, Leeds, LS18 5HD