Here at Physio Leeds we offer highly effective physiotherapy treatments adopting a variety of care techniques and exercise classes. Here are some of the key physiotherapy treatments we use.
You can visit one of our clinics at Leeds Trinity University or we can arrange to visit you at your home. Whatever works best for you and your recovery process, a professional physiotherapist from Physio Leeds is here to help.
Exercises and Pilates
We can develop an exercise program tailored around your specific needs and recovery requirements. An effective regime will target weak muscles and combat stiffness in the joints. Regular exercise will also aid muscle imbalance and inappropriate posture.
Pilates exercises are a staple part of most rehabilitation programs. Working from head to toe, this whole-body regime will ensure you are evenly balanced and conditioned. This can quicken your recovery process by progressing body strength and flexibility. This effectively reduces the risk of recurring or further injury. With an effective Pilates program, you can get back to enjoying your daily activities with greater ease and comfort.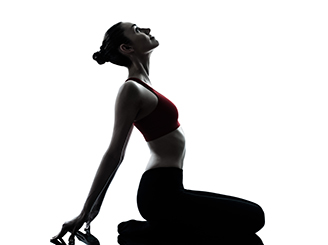 Manual Therapy
Manual therapy restores normal movement in the joints and soft tissue. It is a common technique adopted by physiotherapists, using precise hand placement and application of force to alleviate tension and pain. This well-documented form of physio is proven to increase functional outcomes. However, it is extremely important that manual therapy is used in combination with an effective exercise regime to achieve the best results.
Postural Advice
The importance of correct posture cannot be stressed enough. This is absolutely necessary if you are working in an office, or at a computer, for long periods of the day. Here at Physio Leeds, our experts will help you to adopt a better sitting position and improve your posture. Everything from your mouse and keyboard position to your screen display will be analysed and advised on.
Electrotherapy
Electrotherapy makes use of electric energy in the healing processes. We have two clinics that provide two forms of electrotherapy treatment – Ultrasound and Interferential. Combining this technique with the rest of your recovery plan can really help to speed up the healing process. If used in isolation, which is very rare, electrotherapy is not as effective. We can help tailor electrotherapy treatment into your overall recovery plan with ease to ensure we obtain the best results.
Rehabilitation Following Surgery
Post-surgery rehabilitation is extremely important. This can be a stressful, painful and traumatic time depending on the severity of your operation. You will not have the same range of movement you are used to and coping with this can be difficult. Physiotherapy will help to significantly minimise this stress and make your recovery more comfortable. This type of treatment is most common for those who have experienced some form of orthopaedic surgery; such as a knee and hip replacement or back surgery.
Soft Tissue Manipulation & Massage
Physio Leeds have teamed up with Gerry Andrews –  a holistic massage expert. Together we can help you relax, refresh and repair quicker and with more comfort. This form of therapeutic massage promotes a sense of wellbeing and improves your blood circulation. It is believed to relax the nervous system and release the tension in your muscles with the production of endorphins and serotonin.
Soft tissue manipulation techniques, such as an Indian head massage, are meant to reduce the production of stress hormones like cortisol and adrenaline. This can be done in one of our clinics or in the comfort of your own home. The procedure also works perfectly as a pre-and-post sports massage, providing an added element to your repair process. Your physiotherapist may use any of the following soft tissue manipulation methods:
Remedial Massage – Natural therapy for lots of different muscle types.

Muscle Energy Techniques – Using counter-force and slight force application.

Neuromuscular Techniques & Myofascial Release – Involving the fingers and thumbs.

Trigger Point Therapy
Visit the soft tissue manipulation page for more information on these methods and how we may use this technique to aid with your recovery process.
Physio Appointment in Leeds
Are you in need of physiotherapy? Do you live in Leeds or the surrounding Yorkshire area? Contact us today, for more information on the physiotherapy treatments we provide, or to find out how we can help you specifically. Here we can tailor a recovery regime around your specific needs and requirements. Simply get in touch – call 0113 350 1776.
PhysioLeeds Fit4Work, Bankside, 71 Breary Lane East, Bramhope, Leeds, LS16 9EU
PhysioLeeds Fit4Work, Trinity Fitness, Brownberrie Lane, Horsforth, Leeds, LS18 5HD