Can't Come to Us?  No Problem!
We Provide Physiotherapy Home Visits in Leeds
At Physio Leeds we are able to offer home visits.  A home physiotherapy visit may be necessary when you are unable to drive due to intense pain or you may have been recently discharged from hospital and be under doctors advice not to drive.
Health problems can be managed effectively when physiotherapy treatment is carried out at home as practical problems can be addressed.
Physio Leeds are also able to advise you on suitable aids and modifications for your home situation. Physiotherapy at home also enables members of the family to gain a better understanding of your condition and how they may be able to assist with your road to recovery.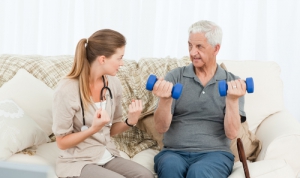 Physio Leeds is equipped with a mobile electrotherapy unit, extensive mobile physiotherapy equipment and exercise equipment.
What to Expect from a Home Visit with Physio Leeds
Our home visits will take approximately one hour and comprise of an assessment  and treatment.  If appropriate an exercise regime will be prescribed and discussed with you.
Contact Physio Leeds today to arrange physiotherapy home visits across leeds.
PhysioLeeds Fit4Work, Bankside, 71 Breary Lane East, Bramhope, Leeds, LS16 9EU
PhysioLeeds Fit4Work, Trinity Fitness, Brownberrie Lane, Horsforth, Leeds, LS18 5HD