Back Pain and Ankylosing Spondylitis
Are you suffering from back pain? Have you been experiencing frequent back problems for some time despite taking pain killers and resting? Back pain is a very common issue in the UK. This is especially true for adults and the older generation, but almost anyone can experience it at some point in their lives. At times, this type of pain can be extremely debilitating.
Common causes may include:
Lifting a heavy object

Twisting whilst lifting

Trips and falls
Sudden and sharp movements

Poor posture

Sporting injuries
You may also have back pain because of something called ankylosing spondylitis – stiffening of the spine caused by inflammation. Continue reading to see if this hits home with you.
What is Ankylosing Spondylitis?
Ankylosing spondylitis is a form of spinal arthritis caused by inflammation in the vertebrae and sacroiliac joints. It can also affect other areas such as the lungs, kidneys, knees, hips and ankles. The condition causes aching, stiffness and decreased manoeuvrability. In severe cases the disease can lead to a total fusion of the spine. Over time, the spinal bones can grow together due to calcification of ligaments and spinal discs. This also leaves the vertebrae vulnerable to fractures.
What Causes This Inflammation?
Today it is still relatively unclear what triggers this inflammation. There is no specific cause and this type of condition is not instigated by an impact or sports injury. It is however believed that genetics have a significant role to play, as they usually do.
Who Gets Ankylosing Spondylitis?
Literally anyone can be affected. Young men in their late teens or early 20s are the most common sufferers. Although genetics play a role, ankylosing spondylitis isn't passed on directly from parents. Individuals with ankylosing spondylitis have a gene called HLA-B27, which doesn't cause the condition, but it does contribute to it. You're not guaranteed to have the condition if you possess this gene either. However, detecting HLA-B27 in a blood test can be extremely useful in diagnosing the condition.
What are the Signs?
Pain and joint stiffness in the lower back

Pain and joint stiffness in the hips

Aching ribs, chest, shoulders or heels.

Pain and stiffness that improves with exercise but then becomes worse with rest

Pain gradually moving up your spine
Diagnosing Ankylosing Spondylitis
Diagnosis can be difficult, as symptoms are very similar to those of other disorders. A doctor will want to know where and when you have pain and how severe it is each time. Knowing which activities make the pain subside and the ones that make it worse will also help a doctor understand the cause of your pain.
Keep a diary or journal of your symptoms to make this information as clear and as precise as possible. Unfortunately, there isn't a single test for AS. Diagnosis will involve a detailed patient history or account and a physical exam with some possible imaging tests. This may include an MRCI scan or X-ray.
Can Ankylosing Spondylitis Be Treated?
If diagnosed with ankylosing spondylitis, a doctor may prescribe physiotherapy treatment and exercise advice. Swimming is very good therapy for this condition. This level of light but intense physical activity promotes range of motion that could prolong movability and flexibility. Maintaining good posture and keeping fit will help to avoid extreme stooping and deeper problems.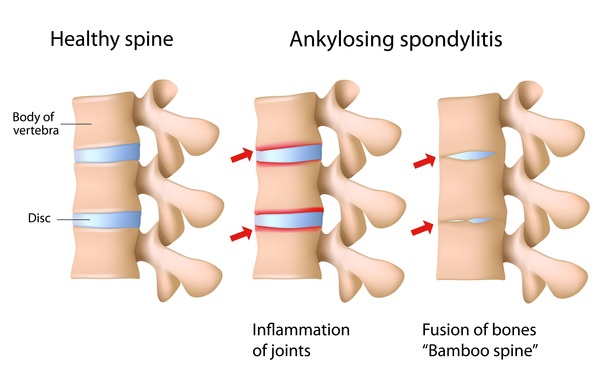 There is no current cure for the condition regrettably, but excellent therapy work will help to lessen your pain and decrease inflammation. This will slow the progression of the disease and help you lead a better quality of life. Your doctor may also prescribe you with anti-inflammatory or painkilling medication.
Are you worried that you may be suffering ankylosing spondylitis? Contact Physio Leeds today!